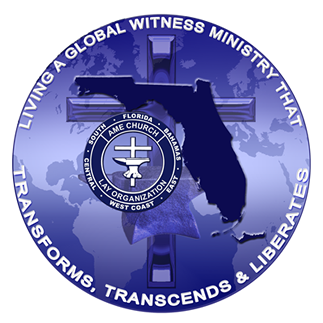 [Tap Above] Our History Video will open in the Media Player configured to play .wmv files on your computer or mobile device. The video is 36 minutes/138MB. You may pause it at will. You may also download & save the file on your PC/Mac or device for later viewing & sharing.


The History of the Eleventh Episcopal District's Lay Organization was assembled, recorded and produced in 2008 by Peggy Rice Johnson and Angela Surcey Garner. Many persons contributed photos and information to make the production possible. It was presented at the 64th Convention of the EEDLO in Jacksonville, FL at the Crowne Plaza Riverfront Hotel. Sister Marian Bacon White was the President until the election when former President Charlie Nichols - Florida Conference - was elected for 2 terms. Since its production, the EEDLO elected our current President in 2016 and
again in 2020 (also elected the CLO Director of Lay Activities in 2021):
Sister Patricia H. Wright - West Coast Conference
The video was based on our former theme and we hope you will see how the EEDLO "refocused to serve the present age" over the 60 years presented there. The Connectional Lay Organization's President at the
time of production was the EEDLO's own: Brother Jesse L. Burns, Jr.
Our 2022-2026 Connectional Lay theme is:
"Living a Global Witness Ministry That
TRANSFORMS, TRANSCENDS & LIBERATES"
The Connectional Lay Organization's President:
Mr. Matikane Abednego Makiti
Other History Pages available from Lay Organization sites:
The Connectional Lay Organization's History Page
Our most recent History Graphic by President Wright introduces
The EEDLO Presidents with timeline highlights & information
View an updated History Presentation in PDF
Download the History Pre-Test/Post-Test